Therapy Blunder: Basket Weaving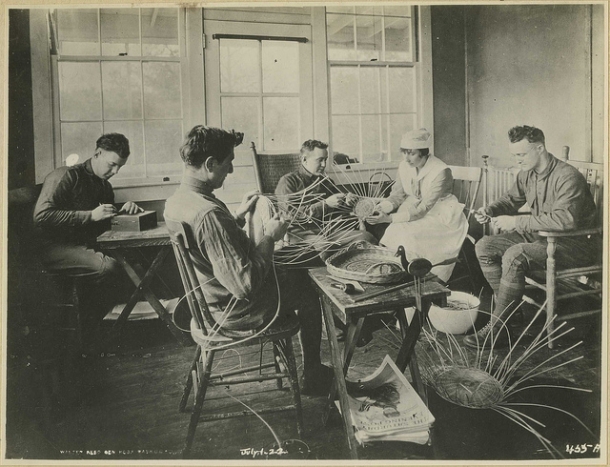 Basket Weaving, an innocuous activity of early occupational therapy is also the go-to trope for all things mental and pointless.

Why? Where did it all go wrong? Why so much hate for basket weaving? And what does this do for the therapy modalities associated with it?
Let's Start with the Basket.
Sadly, the basket has a long and lowly history -- it is the "other" of the craft world. The very definition of low-tech and never a status object in the western world, baskets were made by women, "natives," the mentally ill, and the disabled.

Until recently, baskets were carried by the poor or serving class and held dirty laundry, fish, the occasional severed head, manure, scraps and trash. In this, both the act of basket weaving and the product has tainted basket weaving in cultural memory.

16th century - 18th century: The "Bawdy Basket"
A Bawdy Basket was a female beggar (called a canter) who sold "pins, tape, ballads and obscene books." [Grose, "Dictionary of the Vulgar Tongue," 1785]

16th century - Victorian Times: The "Basket Beggar" 
The basket beggar would wander around asking for food at back doors.

"Mrs. McCoskey --familiar as a basket-begger to many householders--is the most disgusting creature in the alley; she is blear-eyed and dripping-eyed to pimply-faced and smutty-tongued. She is very loyal to her husband, who has been in the insane asylum for the last thirteen years..."  - from The Ugly Laws: Disability in Public by Susan Marie Schweik

"Charity was more clear-cut in the case of the basket beggar, who made the rounds asking for food at back doors. Begging and charity were both common in small towns and cities before public transportation separated poor from prosperous neighborhoods. Nineteenth century household manuals almost routinely discuss responsibilities to the poor and ideas of Christian charity as part of the duties of the household and an essential element of the"woman's sphere."
- from Waste and Want: A Social History of Trash by Susan Strasser
And then Basket Weaving...
1840's - 1960's Crafting at the Insane Asylum.
Recreational crafting was a key selling point of the Asylum System of the 19th century. With the dissolution of the great mental health hospitals in the late 1960's, basket weaving and came to be viewed as a childlike, feminine, and a potentially dehumanising activity.

"I am having unmistakable evidences, that what we have been doing for the occupation and amusement of our patients is becoming known very generally, and in many quarters, that are important to our permanent success, is recognized as a proof that we are at least in the front rank of [mental] institutions." - 1864 - Dr. Thomas Kirkbride, Pennsylvania Hospital for the Insane

1917 Occupational Therapy & Basket Weaving
During WWI, occupational therapy was becoming better organized and well known. On March 15, 1917, the National Society for the Promotion of Occupational Therapy was founded, and basket weaving became the symbolic approach of therapists in this field. Photos of soldiers weaving, carving prosthetic limbs and making shoes were distributed in the media and entered the public consciousness.

1919 "Basket Case" original meaning
At the close of WW1 there were rumors of quadriplegic men being transported in baskets - hence the term "basket case." There's no record of this except for a denial by the Surgeon General of the US Army... "denies ... that there is any foundation for the stories that have been circulated ... of the existence of 'basket cases' in our hospitals."

Were injured men carried around in baskets? I don't think so, my best guess is the term "basket" was a slang term applied to the wicker wheelchairs of that time.

1950's "Underwater Basket Weaving"
Underwater basket weaving emerges as a joking figure of speech which refers to a worthless college or university course.

1967 "Basket Case" - Figurative sense
The term "Basket Case" morphs to mean a "person emotionally unable to cope"

1969
Song: Napoleon XIV "They're Coming To Take Me Away, Ha-Haaa!"
partial lyrics:

They're coming to take me away, ha-haaa.
 They're coming to take me away, ho-ho, hee-hee, ha-haaa.
 To the funny farm, where life is beautiful all the time and I'll be happy 
to see those nice young men in their clean white coats and they're coming 
to take me away, ha-haaa!!!
 To the happy home, with trees and flowers and chirping birds and basket
weavers who sit and smile and twiddle their thumbs and toes and they're
 coming to take me away, ha-haa!!! 
To the funny farm, where life is beautiful all the time... (fade out)

1970  Time Magazine asks: "Is Basket Weaving Harmful?"

Monday, Oct. 12, 1970

"Awakened at the crack of dawn for an inhumanly early breakfast, the patient in a typical U.S. mental hospital faces a day of TV watching, pingpong, checkers, and perhaps a bit of dishwashing or floor mopping. Then there is lunch at 11:30, an hour of basket weaving or making leather belts, and dinner at 4:30 to end a day spent entirely in the company of his own sex. Is this routine rehabilitating?"

1982 Basket Case - Horror Film
"A young man carrying a big basket that contains his deformed Siamese-twin brother seeks vengeance on the doctors who separated them against their will."
How To Clarify the Image of Occupational Therapy
To combat the therapy image challenge, I suggest a two prong approach.

1. The way I read it, the enormously powerful WW1 propaganda machine is largely responsible for Occupational Therapy's lingering image problem. The war coverage was a boon to Occupational Therapy at the time but has since become a curse.

To counter this stain, a significant advertising campaign with a new, easy to understand iconic symbol would be needed. The general public has only the vaguest definition of Occupational Therapy -- the official wordy definition is too ambiguous. By carefully choosing a highly regarded symbol to replace basket weaving, Occupational Therapy might come to be properly understood at a glance.

2. Certainly, basket weaving isn't the staple activity it used to be, however, perhaps current rehabilitative tasks bear a similar taint?

From a practical point of view, any therapist should examine closely the cultural capital and potential added stigma of the activities we choose for our clients. If we are working with clients who are or have been humbled by life, our hardest task might be finding activities that society deems useful, prosperous and holds in high esteem.